I'm super excited today because I have author Kate Dyer-Seeley on the blog. She's the author of Scene of the Climb, a Pacific Northwest Mystery and lives in the same town as me! We recently met up at the park but because we had SO much to talk about we ended up doing the interview by email instead. Seriously, we could have talked forever! You can check out my review of Scene of the Climb HERE. And make sure to check out the video where she talks about her Top Five Pacific Northwest Locations on my travel blog HERE.
Hi Kate, thank you so much for stopping by today! I had a wonderful time meeting up with you and I'm sure we could chat forever but I'll keep things short this time. Scene of the Climb is the first in the Pacific Northwest Mystery series, what can you tell us about what comes next?  How many books do you think there will be?
 – The next book in the series, Slayed on the Slopes comes out on April 7, 2015. Poor Meg.  She can't catch a break. After her less than stellar outdoor performance in Scene of the Climb, she spent the summer immersed in "outdoor school." Just as she's starting to feel a bit more confident with her new skill set, Northwest Extreme, the adventure magazine where she works as a reporter, sends her up to Timberline Lodge on Mount Hood to cover a new high altitude mountain guiding team, the Ridge Rangers. When Meg arrives at the historic lodge she learns that the Ridge Rangers are actually bunking at the Silcox Hut which is located a thousand vertical feet above Timberline and reachable only by ski lift or snowcat.
After a bumpy ride up the mountain, Meg envisions spending the weekend inside by the Silcox Hut's cheery fireplace with a steaming mug of hot chocolate. However the Ridge Rangers have other ideas. They're all extreme skiers and snow boarders and can't wait to get out on the slope. Meg's terrified that she won't be able to keep up. A winter storm descends, saving Meg from having to snap on a pair of skis, but also stranding her outside in middle of a raging blizzard. She's convinced that she hears gunshots over the sound of the thundering storm.
No one inside believes her until one of the Ridge Ranger's body is discovered in a pool of frozen blood. From there things just get worse for Meg.
 I'm working on Meg's third adventure as we speak. She'll be heading out to Hood River to cover a windsurfing competition, where she's going to be in over her head again.
As long as readers keep enjoying the series, I'll keep writing it. I have so many ideas in store for Meg. The possibilities here in Pacific Northwest are endless. I'd love to send her to the high desert in Central Oregon, to the coast, up to the Puget Sound, and so many, many more places.
That leads to this- is there a romance in the cards for Meg? There's some hint in Scene of the Climb but it seems like Meg has a lot on her mind and it's hard to say where things might go. Can we root for a romance yet?
– I definitely think there's a romance in Meg's future, but I'm just not sure when. One of the things that I love about writing her character is that she's young, she's fresh out of college, has just lost a parent, and is trying to figure out her place in the world. I think that the twenties are such a rich time in our lives. They're filled with so many first—the first job, apartment, and yes, even first loves.
Meg needs to do some work on herself though. She's a bit naïve, and she's kind of billing herself as someone she's not. Or maybe she's hoping to become a true adventurer. We'll have to see… I wrote her that way intentionally in hopes that over the course of the series we can all watch her grow into herself. Matt is a solid guy and a good friend, which I think lends itself well to their potential romance.
Are there any real life experiences or news stories that you incorporated into this, or future books?
Absolutely! I always joke that I could never write fantasy because I have to write what I know. I've pulled pieces of my real life and news stories into the books. My inspiration for Scene of the Climb happened when I was out hiking Angel's Rest with my family one weekend and there was a young woman in her early twenties wearing hot pink hiking boots. I thought, "Now there's a character!" I also spent a semester in college in New Zealand and Australia on an eco-tourism trip. We did a ton of hiking, climbing, rafting and rappelling. It was kind of like "Race the States" only none of us were competing and there was no million dollar prize. I love the outdoors, but I'm klutzy. For example I went waterskiing and skied all afternoon perfectly, but then slipped when I was getting off the boat and broke my wrist. That's very Meg-like.
In terms of news stories, sadly there have been a number of deaths at the top of Angel's Rest. In fact when I was working on the manuscript there were two hikers who fell to their deaths within a relatively short period of time. I hiked it multiple times with my dad, who's in his mid-sixties while I was writing the book. It's a very doable hike, with a stunning view from the top, but if you go be careful up there!
It seems like locally you've been busy. You've done a lot of events, was featured in the local paper and even got a piece on a news station, this is all HUGE for authors. I was also told that you do a lot of book clubs. Can you tell us a bit about this local networking? How do you make the connections? How is it different from internet marketing? Which is easier for you? And what advice would you give authors about making local connections?
– I love doing face-to-face events! It's so much fun to be able to hear readers talk about these characters who I created in my head like they're real people. I tend to be pretty social, so for me doing public facing events is energizing.
In terms of local networking, I think it's all about being professional and knowing your audience. Whenever I do a media pitch, I research publications and news outlets that would be a match for covering the book or a particular angle in the book. For example I sent review copies to some of the regional travel publications since the series serves as a mini travelogue for the Pacific Northwest.
 I don't think it's that different than internet marketing. I've done the same thing with online connections. I spend time reading and perusing blogs before I do any outreach. I like the balance of both. It's been equally exciting to connect with bloggers all over the country! The online blogging community has great reach. I probably wouldn't be getting as many reader emails from the Midwest or East Coast if it weren't for some of the bloggers who've graciously had me on for a guest post.
I would suggest that local authors try reaching out to their independent bookstores first. Having a bookstore signing is a great way to connect with local readers. However I think it's really important that author takes ownership of marketing bookstore events too. It should be an equal partnership. I expect that in partnering with a bookstore that I'll spend a good chunk of time inviting people I know to come (and buy the book from the store) and spreading the word.
Lots of great advice! I'm sure we'll see much more of Kate on this blog and around the blogosphere!
Here's information about her book: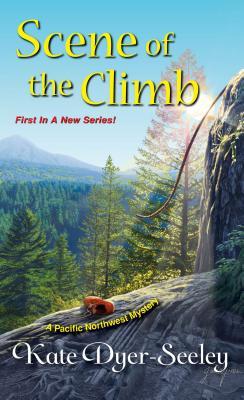 Scene of the Climb by Kate Dyer-Seeley
 Meg Reed bluffs her way into writing for 'Northwest Extreme', passing herself off to editor-in-chief Greg Dixon as an outdoor adventure enthusiast. Never mind that Meg's idea of sport is climbing onto the couch without spilling her latte. So when she finds herself clawing to the top of Angel's Rest – a 2000-foot peak – to cover the latest challenge in a reality TV adventure show, she can't imagine feeling more terrified. Until she witnesses a body plummet off the side of the cliff. Now Meg has a murder to investigate … and if the climbing doesn't kill her, a murderer just might.
Kate Dyer-Seeley's work has been featured in a variety of regional, national and international publications. She writes the Pacific
Northwest Mystery Series for Kensington Books. The first book in the series, Scene of the Climb, was released June 3, 2014 and is now available at bookstores and online.
Kate also wrote a memoir Underneath the Ash (published in 2011) that chronicles her experience becoming a mother for the first time while losing her mother to young-onset Alzheimer's.
Additionally, Kate writes and co-produces a monthly online magazine Broadsheet360. The magazine has a steady readership from all around the globe.
She lives in Vancouver, Washington with her husband and son.
– See more at: http://www.katedyerseeley.com/about