I received this book for free from Amazon Vine in exchange for an honest review. This does not affect my opinion of the book or the content of my review.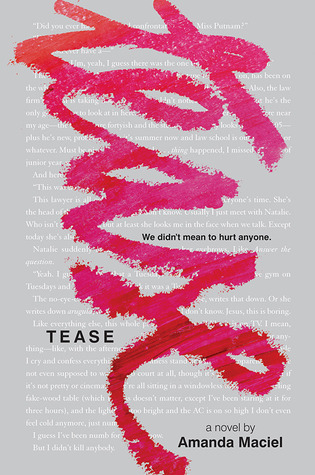 Tease
by
Amanda Maciel
Published by
Balzer + Bray
on April 29, 2014
Pages:
328
Format:
ARC
Source:
Amazon Vine
Goodreads
From debut author Amanda Maciel comes a provocative and unforgettable novel, inspired by real-life incidents, about a teenage girl who faces criminal charges for bullying after a classmate commits suicide.

Emma Putnam is dead, and it's all Sara Wharton's fault. At least, that's what everyone seems to think. Sara, along with her best friend and three other classmates, has been criminally charged for the bullying and harassment that led to Emma's shocking suicide. Now Sara is the one who's ostracized, already guilty according to her peers, the community, and the media. In the summer before her senior year, in between meetings with lawyers and a court-recommended therapist, Sara is forced to reflect on the events that brought her to this moment—and ultimately consider her own role in an undeniable tragedy. And she'll have to find a way to move forward, even when it feels like her own life is over.

With its powerful narrative, unconventional point of view, and strong anti-bullying theme, this coming-of-age story offers smart, insightful, and nuanced views on high school society, toxic friendships, and family relationships.

Supports the Common Core State Standards.
Tease is not an easy read, it's gritty, painful and emotional.  It doesn't hold back when it comes to bullying and it says it how it is.  It's honest.  And that makes it hard.  It's hard to accept that there are teens (even adults) who act the way they do in this book.  And it's especially hard because we get it from the bullies point of view and she's not sorry.  At least she's not sorry through much of the book, though she fortunately does have some realizations by the end.
Sara, the main character, is not at all likable.  It was hard when I first started the book because I'm reading the POV of someone I absolutely detested.  But I couldn't look away, I needed to know how things turned out.  Sara is not likable through almost the entire book but I think that she's in denial eventually, like she doesn't want to accept responsibility for her actions but through a mix of things like her brothers comments as well as a new friend speaking up she starts to open her eyes and by the end things work out.  While she does eventually do the right thing, I wish there had been more discussion about it.  Like she could talk to her brothers about what she did was wrong or something.  Making it more clear about HOW sorry she really was.
The book has alternate chapters from different times.  So we get during the school year when the bullying is happening, we see it all play out; and then we get from the current time, the summer and fall after when they are dealing with the after affects, going to court, etc.  Sometimes this technique works of alternate chapters of different times and it works pretty well here.  I did have a few cases of having to clear my head and look at the chapter heading because toward the end they started feeling more blurred together or something.  I also don't like being kicked out the time line every chapter because I settle into the story and have a good flow going, all immersed and then BOOM, switch to the other time frame.
The book is gritty and the author didn't hold back.  It was hard to read about the things these girls were saying and doing.  It infuriated me.  It made me want to DO something about it.  And that's the point.  While there are bad words, there's slut shaming, there's sex, there's all of it- right there- it's eye opening and if you have a teen, or have a classroom of students, it's a good discussion book.  Read it together and discuss.  Maybe read it first so you're prepared, especially if reading with a teen or in a student setting (some schools wouldn't really allow it).  But I think that this is one bullying book that may make some realize that the words they throw out without much thought really can hurt people.  Girls are always calling girls names, even their friends, just in fun.  But it's NOT FUNNY.  Things were not like this when I was a teen so when I see them in the mall (or wherever) and they are casually calling each other names it really makes me cringe.
It may not be an easy book to read, but I think it's an important one and I think that all teens should read it.  They should be reminded of what can happen and maybe they'll have their eye open to bullying and might stand up for the one being bullied, they could, in the end, save someone's life.  I definitely recommend this one!