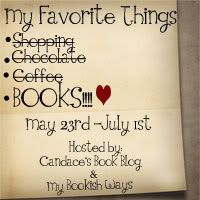 The My Favorite Things Event is over (except the giveaway for The Pledge which is open until 7/10) and the mad rush to pick winners is on. The plan, which is working so far, is to go through the list from top to bottom first picking winners for the books that are being shipped by authors or publishers. I'll then go back and pick winners for the books I'm shipping (there have been some exceptions). You can
watch the schedule post
as I'm marking the winners as they are picked behind each giveaway.
For finding the winners for the giveaways hosted by
My Bookish Ways
you'll have to check out her blog.
Once all the winners have been picked I'll write up a post with the full list. But in the meantime, in case you're dying of curiosity, you can watch the schedule. I've been picking winners throughout the day.
I hope you all had a fantastic time! I know I did! And I'm already planning things for next years event!