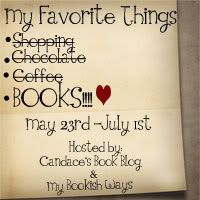 Some of you may remember the gigantic giveaway I posted a couple weeks ago. This giveaway was for raising funds for shipping all these books we have for giveaway. We (Kristin from
My Bookish Ways
and myself) have loads of books to giveaway but many of them were sent to us to ship to the winners. Some of them are books I bought or owned already as well. And some of the giveaways are books I'm ordering from The Book Depository so the international people can get in on some of the fun. The $65 max was actually what we each had figured shipping to be (for each of us) so I'll still have some out of pocket expense, but it's going to help A LOT! So I want to say a huge thank you to everyone who donated! I was surprised when one donated over $20! Some donated $10 and many donated $3-5 mostly.
If you are wondering how I counted the entries it was every dollar got you an entry. The more you donated, the better your chances. I just am so happy to have such wonderful and giving readers who were willing to help out!
But I know that the prize was definitely motivating! So what was it? It was a whole stack of awesome Young Adult books! Divergent ARC; Delirium; Illusions ARC; Once Dead, Twice Shy; The Wikkeling ARC; Personal Demons and The Marbury Lens.
So you're wondering who the winner is right? It is...
Congrats Heather!
Heather has been contacted by email and has 48 hours to respond.
The winner was selected using random.org