This Hop is over- winner's to be announced soon!
It's time for the enormous Holiday Gift Giveaway Hop FINALLY! Woo hoo! I'm so excited because this one is all about gift cards! The hosts of this wonderful event are:
This giveaway hop lasts from now, Dec 1st to the 5th.
Below I have some fantastic giveaways. I will lay out everything with each sponsor so it'll be easy to enter.
There will be 4 winners.
My first sponsor is For Your Nose.
ForYourNose.com
has been lovingly owned and operated by a work-at-home mom since 1996. The owner has a passion for great fragrances, and offers friendly, personal service through her web site. Her handcrafted
bath and body products
, most of which are made fresh when you order, are available in more than 350 fragrances. Some of her most popular products include perfumes, lotions, triple-scented body mists, soaps, and a variety of ways to scent your home and car.
Lindy is giving away TWO Gift Certificates for $25 each! She has amazing stuff and I just got some of her cupcake soaps and the soy tarts. Everything looks and smells delicious! This Giveaway is open to US and Canada
Next up we have Cynthia's shop
Whimsical Fiction.
Here's a bit about her and her wonderful shop:
I'm a 29 year old mother of two that fell in love with reading YA books after I read Twilight. Before Twilight I used to read but it was mostly adult paranormal.
Ever since
then I've been reading everything I can get my hands on that is YA, I'm addicted. I was inspired by the many series and books I've read to create jewelry that would be fun, cute, something that I would like wear and that only the people that knew about the books or read the series would be able to tell what the jewelry meant and what it was all about.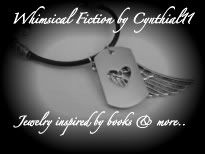 Cynthia is giving away a $15 gift certificate which buys just about anything in her shop. This one is open Internationally!
And last, but not least we have
Southwest Sky Jewelry
! She not only does monthly giveaway's here for her amazing mini book charms but she also has some other amazing products. Here's a bit about her:
I absolutely love collecting, buying and selling vintage Native American and Southwestern and Horse Related Jewelry.
Turquoise has always been my favorite stone (other than Amethyst-my Birthstone). Sterling Silver my favorite Precious Metal, especially Vintage Sterling Silver.
Over the years I have noticed that Sterling Silver from Oregon and Washington State is especially nice, so anytime I see that for sale I take a second look!
Of course Turquoise from the Southwest is the best- Arizona, New Mexico and Nevada-so beautiful and rich- you can not beat it worldwide!
I also love to make my own Handmade Southwestern, Native American Style Bracelets and Necklaces.
Recently, I have started making Miniature Book Charms; I always wished I could author a book- but that is not going to happen, ha!- so I guess reading and making these mini book charms is a way to fulfill a closeness to books for me.
My other Passion is Horses-I was lucky enough to own 2 beautiful horses for 18-19years. Their names were Love and Nevada. There is something about a horse that enriches the Soul.
Please Check my Shop often- maybe you will see something you would like!
My Blog is at:
www.southwestskyjewelry.blogspot.com
Please Come Check it Out and Leave Comments!!!!
She's giving away a $10 gift certificate good towards anything in her shop or mini book charms with free shipping (since they are the only thing $10) USA only
CLOSED
Leave a comment (one is fine) with the following information:
Your country US, Canada, or International
Which you would like to be entered for (all three or just one specific one)
For Your Nose (US/CA), Whimsical Fiction (INT), Southwest Sky Jewelry (US)
For Extra Entries (in same comment)
Follow my blog +2
Subscribe to my blog by email and confirm +2
ENDS Dec. 5, 2010 at 11:59 EST