You guys know it's Book Blogger Appreciation Week, right? If you don't and want to know more about it then click the button above.
Now to be honest I always have so much going on I didn't pay much attention to it and until the end of last week and then it was BlogFest, and well, got busy again. I hope to participate in one or two of the posts, but mostly I think it's important to give a shout out to some bloggers that I really truly appreciate and wouldn't be where I am without them.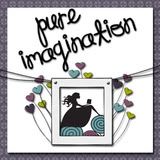 Lori from
Pure Imagination
has been my friend online for a few years now. Before either of us was blogging. She started being a regular blogger a year or so before I did (I had my blog but posted infrequently at that time), but when I decided I needed a blog makeover and that I was ready to go into it full time she was there for me. She walked me through everything I needed to know, was full of advice and even did my makeover for my blog (you can find her design blog at
Use Your Imagination Designs
). And she's been right there for me the whole time. We talk everyday on facebook and we even text each other from book signings sharing in the excited-ness and figuring out what books we'll get, haha. If it wasn't for Lori I would have given up on everything because when it comes to html, or really anything computer related that isn't the basic of the basic I have no clue. Luckily I have her and I have survived. So I just want to send her some serious hugs and a ginormous THANK YOU for being such an amazing friend.
She's also been shortlisted for best Young Adult Book Blog! She SO deserves it and that is AMAZING! Congrats Lori!

My next thanks go out to Angela from
Reading Angel
. She got into blogging the same time as me but like Lori I knew her online before. We've gone through the journey together and neither of us can feel too stupid because we're clueless together. Sometimes together we can figure things out without Lori, but that's rare. ;)
Like with Lori we chat together everyday (all three of us together, actually) and text from signings. We share our journey into the blogging world and our excitement is shared as our blogs grow.
So I really have to give her a big hug as well because she's been an amazing friend on this wonderful journey.
Violet from
The Eager Readers
is my next, and last, shout out. I met Violet when we both went to Kimberly Derting's book signing in the Spring. She had found my blog only the night before so it's like we were meant to be! I love going to book signing's but I always felt like something was missing. Like someone to talk to;) and so didn't go to many. Once I met Violet I knew we would be signing buddy's for years to come! We live a few hours apart, so we only see each other at the signing's, but we're always excited to see each other and to enjoy the signing's together. It really makes them so much more fun and exciting! And we've had fun coordinating giveaways when we pick up books at signing's. It's always fun to chat with her and share our love of books. So some hugs go out to her as well!
I really could name many more amazing blogs and bloggers but if I went any further I'd be here all day.
I appreciate all of you and love having like-minded book people to talk to!